It's National Doughnut Day, and who loves donuts more than Homer Simpson? No one, that's who! To celebrate, we're taking a look back at some of the most musical moments on The Simpsons.
1. Bart the Genius
On the second episode of The Simpons, Bart is declared a genius so the family takes a trip to the opera to see Bizet's Carmen. Bart adds his own lyrics to the libretto, "Toreador, oh, don't spit on the floor"!
2. The Homer of Seville
Homer discovers his hidden talent as a singer and Mr. Burns casts him in the local productions at the Springfield Opera House. The only catch? He can only sing supine. This episode is full of musical references to classic operas and musicals.
Homer performs in La bohème lying down.
Chief Wiggum gets Wagnerian.
Don't cry if you didn't catch the reference to Pagliacci.
There are many references to musicals in this episode, Fiddler on the Roof, included.
One of many references to The Phantom of the Opera.
3. The Italian Bob
The Homer of Seville isn't the only epsiode with a reference to Pagliacci. In The Italian Bob, Sideshow Bob gives his own rendition of "Vesti la giubba" from Leoncavallo's Pagliacci.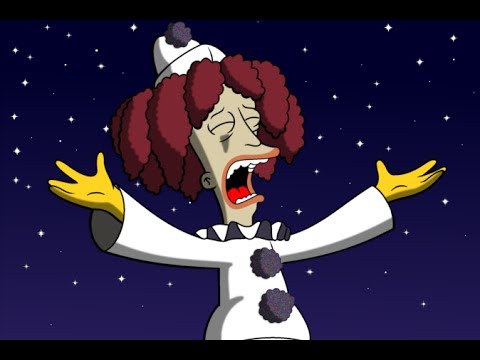 4. The Margical History Tour
In this time traveling episode, Bart plays Wolfgang Amadeus Mozart, a "bad-ass rocker who lived fast and died young."
Eine Kleine Bartmusik
5. Cape Feare
In this episode, Bart asks to sing the entire score of H.M.S. Pinafore, and the family has a sing-a-long to a classic tune from The Mikado, "Three Little Maids from School Are We."
6. Fabulous Faker Boy
Bart is back at the keyboard in this episode. He takes piano lessons because he has a crush on his music teacher, faking a performance of a virtuosic piece by Chopin to impress her.
A modern take on Vermeer's "The Music Lesson"?
7. The Seven-Beer Snitch
In this episode, Marge encourages the community to build a new concert hall built by Frank Gehry and the Springfield Orchestra plays the opening night concert.
Nelson and Jimbo realize that form doesn't always follow function with Frank Gehry's designs.
Once Marge announces that the Springfield Orchestra will play a piece by Philip Glass, the orchestra runs out of the hall.
8. Homerpalooza
The London Philharmonic joins the "Hullabalooza" music festival, inspiring this collaboration between the orchestra and the rap group Cypress Hill to cover "Insane in the Brain."