Is there a choreographer today who is more closely linked to music than Mark Morris? It's difficult to describe his more than one hundred works, which include ballets, operas, and other evening-length pieces. But all of Morris's creations share one thing: music never merely "accompanies" dance. In a Mark Morris Dance Group production, music and dance always work together to tell stories. In face, Morris is so dedicated to music, his company has it's own resident ensemble, the Mark Morris Dance Group Musicians.
Two MMDG Musicians, soprano Sherezade Panthaki and bass-baritone Douglas Williams, explained what it's like to perform in one of Morris's most iconic works, Dido and Aeneas, in anticipation of upcoming performances at the Harris Theater for Music and Dance.
Created in 1989, Dido adapts Henry Purcell's English-language opera, in turn inspired by Virgil's Aeneid, into an hour-long danced drama through twelve dancers on stage and a pit full of singers and instrumentalists. In upcoming performances during the 2016 Midwest tour of Dido, Mark Morris conducts.
"Mark Morris is extraordinarily musical, there's no other way to put it," Panthaki said. Panthaki has appeared in other Mark Morris productions including his recent version of Handel's Acis and Galatea and his now classic staging of Handel's L'Allegro, il Penseroso ed il Moderato.
"Many of Mark's works have become part of the standard repertoire in the hearts and minds of modern listeners," she said. "If someone is going to put a concert production of Handel's L'Allegro in New York, they might think twice about doing it because the work is so closely linked to Mark Morris. It's almost impossible to think of L'Allegro without thinking of Mark. Dido is similar."
Morris is also closely linked to Dido because he originated the role of Dido when the production premeried in 1989. See him perform Dido's famous lament, "When I am laid in earth," below.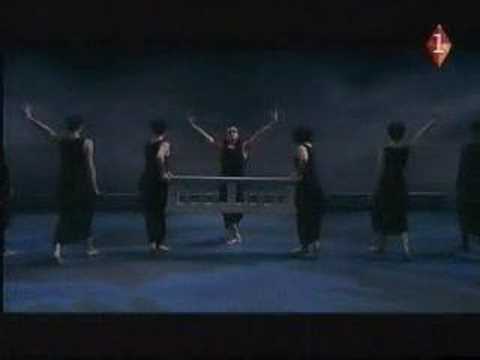 Morris's productions have become iconic, Williams explains, because he "tries to achieve the most direct route from the stage to the audience to find a true human connection. He's interested in purity of storytelling. Dido is in a very austere style, very direct. He's always trying to get rid of extra stuff. He's certainly interested in beautiful voices and in what voices and instruments can do. But he's interested in storytelling as the first and most important objective."
"He understands the music and the drama so well," Panthaki added. "He's so keenly aware of everything that's happening at any given moment. Never in my life have I met someone who is able – in a split second – to take a perfect snapshot of what's going on and to react to it so appropriately. Having him lead it is very helpful for the musicians, too. He knows exactly how long a chord needs to roll for a dancer to get somewhere or for a scrim to drop."
In Dido, Williams plays Aeneas. Panthaki doubles as Belinda, the optimistic handmaiden to the lamenting Dido, as well as the First Witch, who helps to plot Dido's downfall along with the evil Sorceress.
Of course, performing Purcell's score is different when you're working with dancers.
"When there are dancers," Panthaki explained, "we have to be a little more mindful of tempo. There's less leeway than one might have it were a concert production. You might not be able to take quite as much of a ritardano at the end of a section, for example. The spaces between movements have to be thoughtfully done. But everything feels very, very natural. Maybe it's because Baroque music was so influenced by dance. If it were a later piece, it might be different."
Though some might think that choreographing an entire opera is radical, dance has always been an important part of Dido."Most of the scenes are structured with a recitative, an 'air,' a chorus, and a dance," Panthaki said. "So there's so much dance built into the music, and that's not even counting the many dances that the airs are based on."
The structure of each scene also means that Purcell must be an efficient story teller, and so must the musicians and dancers.
"Purcell is a master at setting the English language and – dare I say – miniature drama," Panthaki said. "There's a few scenes that last only a few minutes, but they pack such a punch."
Aeneas, though he drives the plot, only appears in the opera briefly. Williams said he is challenged to "show a maximum palette of emotions and vocal colors in the small amount of music that Purcell has written for this character. Otherwise, he comes off as this guy who just breezes through Carthage."
The chorus also helps propel the story, so much, that Williams says, "the chorus is the star of the show." Much like a Greek chorus that presides over a drama, Morris's dancers are ever-present on stage to tell this fateful tale.
Learn more about upcoming Chicago performances of Mark Morris Dance Group's Dido and Aeneas at the Harris Theater here.