When conductor Marin Alsop became the music director of the Baltimore Symphony Orchestra in 2007, she was the first woman to hold this position with a major American orchestra. She's also the first woman to conduct the Last Night of the Proms, and the first conductor ever to receive a prestigious MacArthur Fellowship.
I sat down with this trailblazing conductor during rehearsals with the Chicago Symphony Orchestra, with which she makes her debut this week. In an honest conversation, we discussed everything from new music to women in classical music, the Baltimore protests to bullying.
---
Can you tell me about the repertoire you're conducting here in Chicago?
The repertoire has an American thread through even though the majority is not American, the Dvořák Symphony No. 7 being the mainstay.
We're opening with a short piece called Masquerade that Anna Clyne wrote for my debut conducting the last night of the BBC Proms. It's a celebratory piece and I think the Orchestra wanted something fun for Thanksgiving week to open the program. But it has a sort of quirky British humor to it that I think we really relate to as Americans.
That piece leads into Samuel Barber's Second Essay for Orchestra, which I think is an example of a rarely performed but should be performed American work. Maybe it's because of the title? "Essay" isn't very enticing. It's a terrific little piece that's only about 10 minutes. It's beautifully developed, it has a lot for the orchestra to do – big solos, and it's perfect for the Chicago Symphony.
Can you take me back to the excitement that you felt conducting the last night of the Proms?
This was a sort of historic evening because no woman had ever conducted the last night of the Proms. I had conducted at the Proms many times before but this is a pretty monumental and party-like event. The Brits get out their flags, and it's really a national if not international celebration of everything British. It was quite a happening to be the first woman.
Traditionally, they ask the conductor, "Who would you like us to commission the opening work?" I've worked with Anna Clyne several times, both at my new music festival in Cabrillo and  also at the Baltimore Symphony and other places. I think she's super talented. So I suggested her. It didn't occur to me in the moment that I'm the first woman and I was suggesting a woman composer. But it worked out great.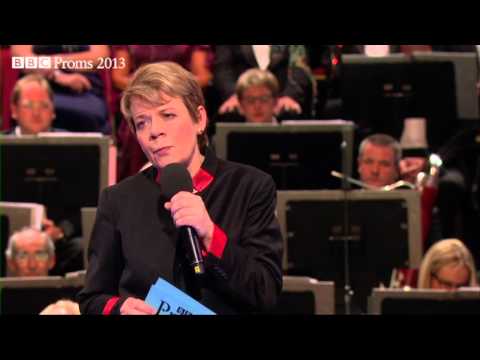 Can you tell me about some of your other work at Cabrillo and what you're most proud of accomplishing in your many years there?
This coming summer, 2016, will be my 25th summer as the music director of the Cabrillo Music Festival. I'm going to wrap it up because I thought 25 sounds a good number – 30 sounds like you stayed too long, doesn't it? 25 sounded good to me. It's the most fabulous and probably the most unique new music festival featuring all contemporary music, probably, in the world.
The orchestra and the musicians come from all over, though mostly the United States, and make Cabrillo their destination. They come prepared, ready to play. They've woodshedded all these amazing pieces, and we generally have anywhere from 10-15 composers in residence for 2 weeks.
It's sort of a creative happening. All of our rehearsals are open to the public. No one gets paid. It's all about being there for the music and just having the experience. It's been wonderful. Over the years, we've built it into a real destination. It's packed. It gets sold out. I think it's a good time for me to leave because I think they're on a real high.
How have your ideas about new music changed in your 25 years at Cabrillo?
We all have our personal likes. That's not something that changes. Maybe we start to like other things too. But I think once you like or love something, you rarely fall "out of like" or "out of love" with it. At least, I rarely do.
As a conductor, I'm drawn to a certain type of music. That doesn't mean it's all I do as a conductor in terms of new music. But I like highly rhythmic, complex, dynamically contrasting works. I tend to like the music of composers like Christopher Rouse, who I think has written some the loudest orchestral music in the history of the world. It's not just loud. It's music of today for me. It represents the world we live in.
That said, I've gotten to know composers and repertoire that I never would've experienced had I not had this hot house, this laboratory in a way. The music of Huang Ruo, for example, is music I never would've thought myself drawn to. It's hauntingly beautiful. It's a different language, so foreign to me.
Over the years, probably my personal tastes are woven through the festival. That's another reason it's a good moment to have another vision or another voice. But for regular audience members, I think it's important to remember that Beethoven was new music. Tchaikovsky was new music. You might like Beethoven more than you like Tchaikovsky. But, you probably would've felt the same way when you heard it the first time. And just because you don't like something doesn't mean it doesn't have value, and it doesn't appeal to someone else.
When I go to a museum, I'd say I'm lucky if I fall in love with 1% of the collection. Maybe there's one painting or one sculpture that takes my breath away. And you the know, the rest, some I really like, some I could do without. Art is like that.
You can be discerning. But just to say, "I don't like new music," really limits your horizons. That's like saying, if you lived 200 years ago, "I'm not going to like Beethoven. I'm not going to like Tchaikovsky." And here people are today asking, "Why can't we have more Beethoven? Why can't we have more Tchaikovsky?" I think it's all a matter of not being afraid and being opened, trying to approach life with "an open face" as I like to say.
Sometimes it takes a certain piece of music or experience can change your mind.
Or a certain performer's interpretation to convince you. I think so too! But the challenge with new music is that you don't have many opportunities to hear it. You run to the concert hall and you have to listen, and that's one interpretation. At Cabrillo, we have a workshop for conductors and composers where we have two different conductors do the same piece so the young composer gets two versions. It really impacts the way we perceive a piece.
Speaking of young performers, can you tell me more about your experiences inspiring young women to pursue careers as conductors?
It's great to be in the position – it's sort of a serendipitous position – of being a role model in a way, or someone people can see as successful and giving people courage. But I think we have to be more than cardboard role models. It's important that we all be active in mentoring and trying to change the landscape for young people. I'm a great believer in the idea that, "It was hard for me so it can be easy for someone else."
From my perspective, I wanted to figure out why there aren't there more women on the podiums? I came to the conclusion that there aren't enough opportunities, pure and simple. I didn't think it was prejudice. I didn't think it was a lack of talent. I really thought it was just opportunity. You can't learn to conduct unless you can conduct, so you have to be able to make some mistakes. If you have one chance, and you make a mistake, you're opportunities are limited.
So I started a fellowship for women conductors in 2002; so far we've had 11 recipients and they're doing fantastically well. In essence, it provides opportunities for them to conduct opening works in concerts. It's not a huge pressure. Just one thing to focus on, and always with a mentor conductor to kind of protect them in case something is going wrong or they need input or feedback. And out of the 11 so far, 4 are American music directors, 2 have their own orchestras that they've started, they're all working. Some of them are assistants with major orchestras throughout the world. I'm very proud of them.
You're also doing a lot to develop the next generation of musicians in Baltimore, right?
We have started an after-school program in West Baltimore called OrchKids for those who don't have the same kind of access to learning an instrument as affluent children. We have 1,100 participants now. We started with 30. They get to choose their instrument. They're doing terrifically well. One went to Interlochen last summer. Some go to Baltimore's high school for the performing arts. It's pretty exciting. But I want to build it into a program that reaches 10,000 kids so I have a lot ahead of me.
Your orchestra has done other outreach in Baltimore, particularly surrounding the protests earlier this year after the death of Freddie Gray.
Some of my musicians wanted to do a concert. We went outside at the Meyerhoff Symphony Hall and about a thousand people turned up. It was about healing but also about community and being together. I think it would naïve to think that the arts can solve these issues. I think they can contribute to help heal. I certainly think the OrchKids program is changing the lives of these kids. It's giving them a sense of purpose. It's keeping them safe every day between 3:00 and 6:00, teaching them skills to have a better life.
Baltimore is a microcosm of the systemic problems we face in the world. Look what's happening globally. I think we've come to a critical turning point in our society of inequality. That's the problem. When so many people have so much and so many more have so little, how do we arrive at a society where people sense that others care?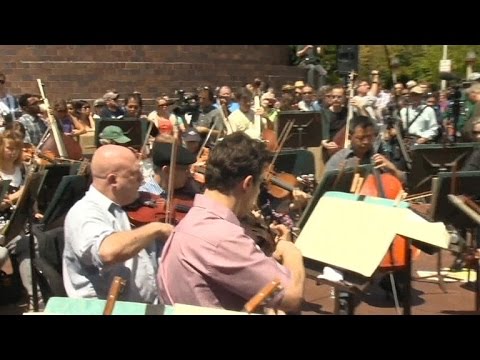 I don't know what the answers are. But I don't think we can shy away from discussing this and art can be a great catalyst or lightning rod for discussion. And I think you do that through programming that really pushes the envelope, that really pushes people to talk about these issues, and surrounding it in discussion. That's something that I'm really keen on: building communities, or going out into the community.
We went out to a church very near the mall where everything started and did this concert. But we shouldn't do it just in response to these events. We should be doing it all the time. We shouldn't be talking about police brutality now. It's something that's been going on for decades. We needed to talk about it before. That's what happens when people feel oppressed. They lash out. And that's what's happening globally.
I can't solve that. I'm not a politician. I like to think of myself as a humanitarian. But I can at least create places of refuge or comfort, and moments of safety where people can talk and be themselves. The great thing about music especially is that it really doesn't have an opinion. It's whatever an individual wants it to be. For me it can be one thing, and for you it can be something completely different. That's the beauty of music, and that's why we need it so much now.
Have you ever felt like you have been perceived differently in your work as a queer person?
In the arts being gay is sort of the least unique quality one can have.
Well, there are a lot of gay people in the arts, but that doesn't mean that it's openly talked about or that people…
Don't accept gay people?
Yes. Even though there's a lot of gay men in the arts, I think there's still a lot of prejudice against gay women in general in society…
I think we tend to be at the lowest rung of the food chain. But one thing I do want to say is that from the moment the Baltimore Symphony board came to speak to me about the job, I spoke openly about my sexual orientation because I don't want to live a life of fear. I think like my gender, like my sexual orientation, is probably the least interesting thing about me. But, that's okay, people seem to latch onto these things. But I have to say, it was an absolute non-issue for them. Some people in Baltimore are really open minded.
Have you ever experienced discrimination throughout your career? I'm often shocked when I hear gay male colleagues in music make disparaging remarks about gay women.
I find that people's hatred, which is what it is that people are manifesting, is really a representation of insecurity or some kind of fear. Maybe they felt excluded. It's like a bully. When you're bullied, you often turn into a bully yourself. Sometimes people have felt so excluded that it gives them great joy to exclude someone else, which is a really sad statement about them and maybe means they should seek help.
It's always important to stand up to bullies. I try to teach my son that all the time.  We need to protect people who are weaker; that's why we're here.
---
For more information about Marin Alsop, visit her website.