Opera's biggest stars on four legs are Lenny and Tristan Pisaroni, a golden retriever and a miniature Dachshund. Talent runs in their family. Their father and grandfather are renowned opera singers Luca Pisaroni and Thomas Hampson.
In summer 2015, Tristan had his stage debut at the Salzburg Festival in Mozart's The Marriage of Figaro. He played Dog of the Count alongside Luca as the Count himself. While Luca was in Chicago to perform the role of the Count at the Lyric Opera of Chicago, he and his wife Catherine spoke about why their dogs are important in their lives, the logistics of traveling with them around the world, Tristan's stage debut, and much more.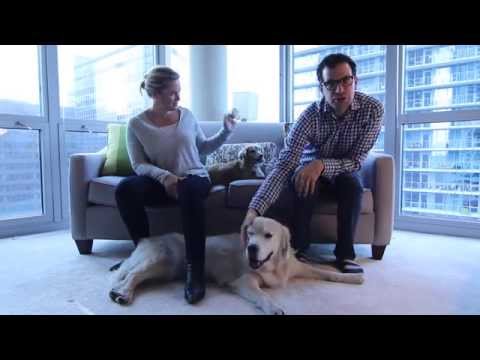 While Tristan might be well behaved onstage, he is prone to make a little mischief offstage. Traveling usually doesn't present problems for Luca and Catherine. But, one time while in flight from New York back to Europe, Tristan escaped his dog carrier inside the plane and had wandered to the front of the cabin! Catherine said, "There are two kinds of dog carriers: regular dog carriers, and Dachshund-proof dog carriers!" He probably thinks he can get away with it because of his good looks!
[Tristan Pisaroni backstage at the 2015 Salzburg Festival, preparing in his dressing room to premiere the role of Dog of the Count in Mozart's The Marriage of Figaro]
Lenny hasn't had his stage debut (yet), though he definitely has other talents. Since arriving in Chicago, he's been appointed the Deputy Director of the Chicago Squirrel Patrol. And you can bet that if there's a goose on the loose, Lenny will be the first one to find it. He is a retriever after all.
Luca and Catherine can't say for sure if Lenny and Tristan have a favorite city. But they know that they always enjoy San Francisco. There, they start every day with a walk on the beach. They also enjoy New York, Luca said. "We spend quite a bit of time there, and when they're in New York, they know they're in New York. They love the excitement."
One of their favorite ways to relax is to go for a nice swim. When beaches aren't available, Catherine and Luca take them to the pool for hydrotherapy. #Rufflife, huh?
Both dogs are as sweet and friendly as can be, and it's easy to understand why Luca and Catherine can't live with out them.
---
To learn more about Lenny and Tristan, visit their facebook page.
To learn more about Luca Pisaroni, visit his website.