With many live performances, there can be an element of danger or risk. When Hubbard Street Dance Chicago performs William Forsythe's One Flat Thing, reproduced this fall, the company ups the stakes.
The dancers improvise within a choreographic framework amidst a maze of 20 large, shiny, metal tables. They gleam forebodingly like a sea of sharp, glimmering icebergs as the dancers twist and swerve about.
One Flat Thing, reproduced, which the dancers affectionately refer to as the "table dance," is part of an all-Forsythe showcase that is Hubbard Street's Fall Series. I spoke with the artists of the Forsythe Company and Hubbard Street throughout the rehearsal process to learn how a complex program like this comes together.
DANGEROUS GAMES
"There's an aspect of danger in this work," said Ayman Harper during a rehearsal break. Harper is a dancer, choreographer, and staging artist who is working to reconstruct One Flat Thing, reproduced in Chicago.
"It's fast, it's chaotic. People are throwing themselves around. There's a lot of legwork. The first time you get into it you definitely feel like curling up into a ball and hiding underneath the table."
Hubbard Street dancer Jeffery Duffy said, "It's a challenge. We're trying to take risks and we are. But you can seriously hurt yourself. We're trying to balance risk and control at the same time."
Part of the risk involved with the planned chaos is that there's "a lot of improv work," Duffy said. "You access it as a game."
"It's all a game," his colleague, dancer Jacqueline Burnett, echoed assuredly.
"And the rules are open," Duffy continued. "There's an objective to the game but how you meet the objective is kind of a spongy thing."
The "games" that Duffy and Burnett are referring to are Forsythe's improvisation technologies – a set of movements and techniques to let dancers improvise.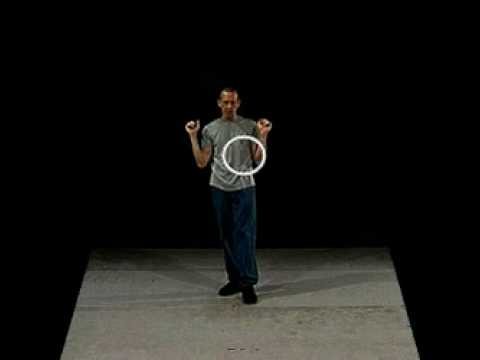 Harper said with Forsythe's movement vocabulary, dancers can choose to "change the quality of the movement. If it was dynamic and sharp, you can choose to make it supple and soft and more fluid. You can also play with the timings of the movement. You can go into slow motion. You can build in stops.
"Some people are terrified, just terrified of improvisation," Harper admitted. "It puts people into such states of anxiety, they are overwhelmed, they turn white – just at the thought of asking them to do something that they're not sure about doing. The thing about improv is that it should offer more unusual situations than choreography."
All 14 dancers in One Flat Thing, reproduced have their own unique choreographic material and paths on which they can improvise. But they all come together to create a single, complex work.
"You're creating a machine that's bigger than you are," Burnett explained. "There are so many people cuing off other people and just matching this part of the machine over there and maybe they go onto something else. We call them triggers – one thing triggers another."
But, when a trigger is pulled, it's easy to misfire. "If someone misses their trigger," Burnett said, "it's going to mess up the machine for awhile until everyone can come back to it. In some dances you can maybe look at one person and be like, 'Oh, okay. I see what she's doing and so now I'm going to get back on with her.' Nothing is like that with Forsythe."
GROWING ANTENNAS
[Staging artist Ayman Aaron Harper rehearses One Flat Thing, reproduced by William Forsythe with Hubbard Street 2 Dancer Elliot Hammans, below table, and main company member Jesse Bechard. Photo by Todd Rosenberg.]
In order to work independently yet together, Harper has helped the Hubbard Street dancers develop their "antennas" to be more attuned with each other.
"Antennas are like do-do-do-do-do-do-do," Harper said, pointing his fingers on either side of his head. "You need them to negotiate and navigate, to take all of the information that's around you. You have to be thinking in 360 degrees the whole time.
"This kind of work forces you to be extremely thoughtful and hyper-aware of where your body is in space – which is two-thirds of what dance is: body, time, space."
Harper explained before the dancers learned any steps, they explored "ideas about improvisation, about their relationship to their bodies, about how they can perceive themselves as someone who experiences the movement rather than just learning choreography and executing a set of material correctly.
"We want them to lose their sense of self, their ego, their I," Harper said.
William Forsythe himself encouraged the dancers to move backwards during some exercises designed to encourage improvisation.
"Bill told us to 'dance backwards,' which is such a cool cue to think about improvisation," Burnett said, reflecting on her time with Forsythe in the rehearsal room.
"You're always creating movement, and you always feel like you're in a forward trajectory," she continued. "When you have an idea, and you reverse how you fire that in your body, what comes out is a totally different movement from your original idea."
DANCING LIKE A COMPOSER
[Hubbard Street Dancers in rehearsal for N.N.N.N. by William Forsythe, from left: Ana Lopez, Alicia Delgadillo, Emilie Leriche, and Jacqueline Burnett. Photo by Todd Rosenberg.]
Forsythe and his company members have encouraged the Hubbard Street dancers not just to listen to music while they dance, but to truly dance like musicians and composers.
To get the dancers to listen differently, Harper revealed that one day in rehearsal, he tried an experiment.
"We put on a few different pieces of music ranging Prokofiev to hip-hop," he said.  Harper said that by allowing the dancers to do the same movement to different kinds of music, they "understood in real time that, 'Okay, there's 14 of us, and when I apply this movement with this quality, I'm like part of an orchestra.' It forced them to perceive things differently."
"Your mind is constantly working to be musical," Burnett said. "Bill said to us, 'You have to be a percussionist with your body.' That has stuck with me over time. That's all we're doing. We're trying to write the music to this thing. When you listen to music, you listen to it all. You're not just focused on only the violin."
Being forced to think more musically, Burnett said has made her "more aware of all the tools I have with my body and all of the levels and shades you have with one simple movement. It helps me be more sensitive when you're listening and active simultaneously."
AN 'OCEAN' OF CHANGES
[Hubbard Street Dancers Jeffery Duffy, foreground left, and Andrew Murdock rehearse N.N.N.N. with choreographer William Forsythe. Photo by Todd Rosenberg.]
Since Forsythe has such a dynamic process of creating and restaging dance, there were bound to be a few changes when bringing three works to Hubbard Street.
In One Flat Thing, reproduced, one section, "Ocean," has undergone some of the most significant changes during this restaging. Harper explained that, "what the section always needed, but what Bill didn't realize until now, is a different tempo.
"They were used to doing it really fast," he said. "So the danger was that they would think it should be a slow motion version. It needed space and it needed to be slower. But there should still be moments that escalate and are more dynamic – we want irregularity.
"Whenever the dancers are working with material in which they can improvise the timing, they should try to keep it irregular and unpredictable so that their partner or partners doesn't go into autopilot."
Duffy said that the dancers have found that changing the tempo doesn't have to deflate the energy. In fact, he said, "slowing everything down brought a nice connectivity to the group. It makes a lot more sense and has enhanced the activity in the piece."
As an individual dancer, Duffy has had to be "more active, more attentive, and more acute" to be aware of his colleagues. Now that the tides have changed in "Ocean," Duffy said, "You have to be like a panther waiting to pounce in a calm, available space."
ORDER AMIDST CHAOS
[Choreographer William Forsythe, far right, in rehearsal for N.N.N.N. with, from left, Ana Lopez, Jacqueline Burnett, Kevin J. Shannon, Florian Lochner, Emilie Leriche, Andrew Murdock, staging artist and original cast member Cyril Baldy,and Jeffery Duffy. Photo by Todd Rosenberg.]
The process of transferring choreography from one company to another is complex under any circumstances.
Typically, Harper explained, "The information exists elsewhere. Someone comes to pass the information, they're your link to that information, and you pretty much learn your steps."
But, with Forsythe's work, it's never a question of learning steps and then repeating because there's an improvisational element.
Burnett said that the members of the Forsythe Company working in Chicago are "very giving in what they want you to do, and there are always very specific details that you have to accomplish, but such freedom at the same time."
Amidst the seeming chaos of improvising within a complex framework, the dancers are finding order.
Duffy said that One Flat Thing, reproduced, "was really kind of complicated to learn it by yourself. It kind of feels like torture," as Burnett laughed in the background. "You're trying to learn all these parts. You're trying to learn all these invisible cues in your head when it's just impossible," he continued. "As soon as we started piecing it together, it was so enjoyable. I'm excited to simply just dance and really communicate."
Having Forsythe himself in the studios, Duffy said, "opened up a whole new realm of ideas, and helped us extract ideas rather than just doing steps."
In the days before Hubbard Street premieres its all-Forsythe program, Harper said he is "getting to that really exciting moment when you feel that transfer of knowledge, when we start slowly stepping away from it, and it's passed. Now, the performers and the artists have that much more space to make decisions and take responsibility."
---
For more information about Hubbard Street Dance Chicago, visit the company's website.
For more information about William Forsythe, visit his website or read his interview with WTTW on "Why He's not the 'Heir of Balanchine'."