Yamine Manaa aka Spider and Yui Kawaguchi pose for a portrait at the Red Bull Flying Bach in Torino, Italy, on Oct 05th, 2012
B-boys – or breakdancers – don't usually dance in a theater. You're more likely to find them on the sidewalk, in the alley, or dancing at a club. B-boys dance with fast, fluid footwork, gymnastic twists and turns, and sudden freezing in positions that look like they belong on a yoga mat.
The Flying Steps won the Battle of the Year competition in 2000, regarded by many to be the be-all, end-all competition in the b-boy community. The company has a few other international titles under their belt after 20 years of performing around the world.
But Vartan Bassil, artistic director and choreographer of the Flying Steps, and his colleagues were looking to take their craft to a new level. They had the idea to set their moves to a wholly unexpected soundtrack, the first twelve preludes and fugues from Book I of Bach's Well-Tempered Clavier. The result? Flying Bach.
I learned to b-boy from Vartan and the other dancers of the Flying steps. After busting a few moves and breaking a sweat, I talked to Vartan about how Flying Bach came about.
The project presented some challenges at first. "The difficult thing was to listen to the music, to understand it," Bassil said. "Sometimes, we're searching for a beat or a rhythm, something that we can work with, and sometimes it was really easy and you find it straight away, and sometimes it was really hard."
That's when the Bassil brought in Christoph Hagel to be their music director, allowing him and the dancers to focus on the choreography.
But in order to make Bach's music work for b-boys, they needed to add a twist. In Flying Bach, you'll hear the music of Bach like never before. Hagel has added pre-recorded electronic beats that blend with live performances on the keyboard.
Curious about how the Flying Steps b-boys to Bach? In the video below, you too can learn how to breakdance – in 90 seconds!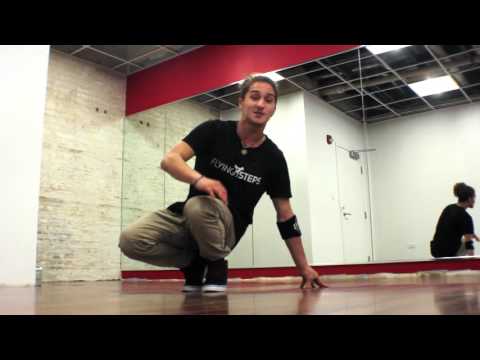 While these fluid moves might seem improvised, don't be fooled. "Everything is completely choreographed," Bassil explained. "You really have to catch the music and the harmonies. Sometimes we dance along to each of the voices [in the fugues]."
But the Flying Steps don't just b-boy in Flying Bach. "It was important for us not just to do breakdance but to bring in hip-hop, house, locking and popping so that people understand that breakdance isn't just something people do on the floor, it's an artform."
Because breakdancing is so athletic, b-boys usually only perform for a few minutes. But in Flying Bach, the dancers have no time to rest, dancing in intervals of 15 minutes or more throughout the 70 minute performance.
As you can see from the pictures of me b-boying with Uwe Donaubauer – aka "BBoy Real" – it's very easy to work up a sweat!
---
To learn more about the Flying Steps, visit their website.