In the "Seguidilla" from Bizet's Carmen, the title character convinces her captor, Don José, to set her free. Most in the audience are swept up in Carmen's siren song. But Ruth Bader Ginsburg, opera lover and Associate Supreme Court Justice of the United States, hears this scene as "opera's most famous plea bargain."
On Monday, September 21, 2015, Justice Ginsburg visited WFMT, Chicago's fine arts and classical radio station, to share her love of classical music and to explore the relationship between her two greatest passions: opera and the law.
Though Ginsburg's life's work is to serve on the highest court in the land, today she spun some of her favorite classical tunes as a guest host on WFMT's Middays with Lisa Flynn.
Ginsburg stuck around for a special concert and conversation on the show, Impromptu, to explore "Opera and the Law." While lawyers and judges typically play minor characters in operas, Justice Ginsburg noted that the law itself plays a major role in many opera plots.
As members of the Lyric Opera of Chicago's Ryan Opera Center performed live in the Studio, the Justice pointed out legal themes in Wagner's Das Rheingold, Britten's Billy Budd, and Jake Heggie's Dead Man Walking. Because W.S. Gilbert was a barrister before he turned to operetta, Ginsburg had to include at least one parody of the law from a work by Gilbert and Sullivan.
As the hour came to a close, Host Lisa Flynn asked the Justice to name 5 operas she wants everyone to know. Watch the video to reveal her selections.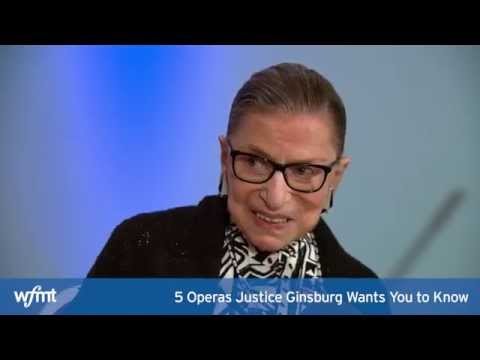 It turns out that Ginsburg is not only an opera fan, but she is a character in a new opera, Scalia/Ginsburg, a comic one act with words and music by Derrick Wang that had its world premiere in July 2015. Though Scalia and Ginsburg often have different interpretations of the law, they have one thing in common…their love of opera.
As much as the Justice adores bel canto, she prefers to use her voice to give opinions on the law of the land. But, she admits that she loves to sing in the shower. Her favorite role to perform? Santuzza from Pietro Mascagni's one-act opera Cavalleria rusticana.