Think modern opera is unmelodious or inaccessible? The next generations of opera stars is ready to prove you wrong.
This Wednesday, three members of the Lyric Opera of Chicago's Patrick G. and Shirley W. Ryan Opera Center team with the Grant Park Orchestra for an evening of modern and contemporary American works.
The program features Gian Carlo Menotti's comic opera The Telephone and excerpts from Douglas Cuomo's opera Doubt, along with Samuel Barber's Symphony No. 1 and Jennifer Higdon's Fanfare Ritmico.
"The Telephone is really catchy, sometimes it's almost a little too catchy," said soprano Laura Wilde in a conversation we had recently at the Ryan Opera Center. Wilde performs the role of Lucy in the opera.
"A lot of people are scared of modern opera. But for my friends who have never been to the opera before? This is the first thing I want them to see me in," she said. "It's short – it's only 20 minutes long. It's in English – so there's no language barrier. And the story is modern – we can all relate to it."
Wilde explains that in The Telephone, "Lucy and Ben have been dating for a while. Ben wants to sit down and have a talk with Lucy about something serious. But the telephone keeps ringing, and she's a bit of a gossip. So, it takes a while for them talk, and when they finally do at the end it's on the telephone."
On the surface, Menotti's opera seems like it's pure comedy. But, baritone Anthony Clark Evans, who plays Ben, reminded me that, "It's actually an indictment on the technology that we use and how it takes over our lives."
The iPhones have replaced the rotary phones that the characters might have used when the opera premiered in 1947, but telecommunication still affects our relationships drastically.
"The problem with communication these days is that people aren't communicating. People are always talking on the phone or texting, but there isn't a lot of emotion attached to some of the ways we communicate."
Evans confessed, rather ironically, that he relies heavily on modern technology to communicate with his loved ones. "My wife lives in Kentucky with my 10-month old baby, and I have to have the majority of my emotional connection to my family on the phone."
"I love that I can reach out to my family any time of day. But I try to make sure we really communicate and that when I do get to spend time with my daughter, she knows her daddy isn't just some face that appears on mommy's phone."
Douglas Cuomo's Doubt also dramatizes problems of contemporary life, albeit in a less light-hearted way.
Doubt is based upon John Patrick Shanley's Pulitzer Prize winning play and movie of the same name. In the story, a Catholic priest, Father Flynn, renounces the cloth after suspicions arise that he is having an inappropriate relationship with Donald Miller, an altar boy.
Evans, who will perform an excerpt from Doubt titled "Sermon," said, "I grew up a preacher's kid. I have a very good understanding about how to get the guilt out of people. When I practice this piece, I feel like, 'Man, that sounds like me when I was a kid getting in trouble, or my dad as a preacher.' I understand this character so well that it's almost not fair."
Mezzo-soprano Annie Rosen will perform another excerpt from Doubt, "The Boy's Nature." She said by email, "I play Mrs. Miller, the mother of the young boy who may have been sexually abused," she said. "In many ways she's the emotional center of the piece. She's onstage only briefly and makes a huge impact with this aria, an impassioned plea to keep her son safe from harm, no matter the cost."
Though the subject of the opera is controversy, Evans claims, "It's compelling not because controversy sells tickets. It's because it's interesting. We all want to challenge ourselves by thinking about subjects that may be emotionally difficult because we learn about ourselves in the process."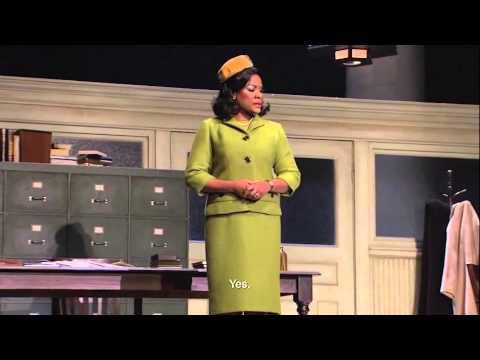 Hearing The Telephone and excerpts from Doubt on the same program underscore that you can't stick a single label on all modern opera any more than you can works written in centuries past. Both works deal with the complexities of contemporary relationships, though the music and scenarios are very different.
Yet, the singers embrace these works just as enthusiastically as they do classic works they have come to know and love. While modern repertoire is diverse, the singers all agree that modern works have incredible potential to inspire today's audiences. In fact, they could speak even more directly to our minds and hearts than works that have been performed for centuries.
Wilde mentioned that, "So often when I performed modern pieces, I hear audience members tell me how they felt. It's less about the singing or other technical aspects, and more about the story – and that's kind of the point of all opera."
When we're less concerned with comparing how one singer performers a role in comparison to the hundreds of singers who have performed it before her or him, we can focus on the stories and the issues they explore instead.
Wilde, Evans, and Rosen all agree that it's vital to support new works. "That's the future of music," remarked Wilde said, "if we don't support living composers now, our era won't be represented in the future."
And, while not every new opera that premieres today is bound to be a classic, not every opera by Rossini or Verdi or Puccini has become part of the canon, either.
"If you go to modern opera and you love one out of five that you see, that's probably a similar experience that people had going to the opera centuries ago," Wilde reminds us.
Evans cleverly remarked, "It's all modern music, it's just written at different times of modernity!"
Whether you're new to modern opera or opera in general, there's hardly a better way to experience new works than for free! Wednesday's performance, like all performances of the Grant Park Music Festival, is free of charge for all who attend.
So grab your friends, pack a picnic, and enjoy an exciting evening of modern music under the stars. Maybe The Telephone or Doubt will become your new favorite opera.
To learn more about the concert, visit the Grant Park Music Festival's website.