Younger generations of Americans take it for granted that the United States has been legally desegregated. But, before the Civil Rights Act of 1964, which outlawed discrimination based on race, color, religion, sex, or national origin, segregation was the norm, including in concert halls across America.
Contralto Marian Anderson (1897 – 1993) broke many boundaries for people of color throughout her career.  She did so most famously when the Daughters of the American Revolution (DAR) refused to let her sing for an integrated audience in DAR's Constitution Hall, in Washington D.C.
As a reaction to the poor treatment Anderson received, thousands of DAR members resigned, including First Lady Eleanor Roosevelt, who wrote in protest:
I am in complete disagreement with the attitude taken in refusing Constitution Hall to a great artist … You had an opportunity to lead in an enlightened way and it seems to me that your organization has failed.
Eleanor Roosevelt
In lieu of the originally scheduled concert at Constitution Hall, Anderson performed an open-air concert, fittingly, in front of the Lincoln Memorial on Easter Sunday, April 9, 1939. The concert, arranged by President Roosevelt, Walter White (NAACP executive secretary), and Sol Hurok (Anderson's manager), was attended by over 75,000 people and heard by millions in a radio broadcast.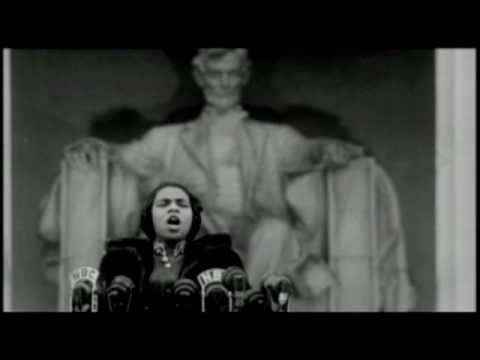 The Lincoln Memorial concert was a triumphant moment for Anderson. Unfortunately, however, the DAR is not the only organization that discriminated against her because of the color of her skin. 
Anderson, a Philadelphia native, was turned away from the Philadelphia Music Academy because she was black. In spite of obstacles obtaining a musical education, she studied music privately, and gained attention after winning singing competition sponsored by the New York Philharmonic.
She made her European debut at Wigmore Hall, London in 1930, and spend the remainder of the 1930s touring throughout Europe, where she was met with acceptance and praise. Curiously, she did not experience the same prejudice in Europe as she did in America.
Jean Sibelius, after Anderson's 1933 visit to his home in Helsinki, said, "My ceiling is much too low for your voice." Subsequently, Sibelius and Anderson became good friends and frequent collaborators. Arturo Toscanini, the Italian conductor, commented during her 1935 Salzburg tour: "A voice like hers is heard once in a hundred years."
Anderson returned to the U.S. in the 1930s where she received high praise, though she still encountered prejudice as a black musician. When Anderson was turned away from hotels in New York and New Jersey, physicist Albert Einstein opened his home to her.
Violinist Isaac Stern once commented, in reference to discrimination Anderson suffered:
On a daily basis taking a train, getting a car, finding a place to practice, everybody takes these things for granted when one travels today. Then you could take nothing for granted, except that you'd be shunted to a third or fourth class accommodation and some of your personal needs would not be taken care of very quickly.
Isaac Stern
Anderson's historic performance on the steps of the Lincoln Memorial was a concert heard round the world. She famously performed "My Country 'Tis of Thee," with lyrics by Samuel Francis Smith set to the tune of "God Save the Queen." The words "sweet land of liberty" were pregnant with meaning when Anderson sang them in 1939 since, of course, she and other Americans of color did not share the same liberties as white Americans.
In the years following and prior to this performance, Anderson was a trail blazer, both as a musician, and as a black woman. In 1928, she was the first black woman to perform at Carnegie Hall. In 1955, she became the first black singer to perform with the Metropolitan Opera as a regular company member.
Today we honor her contributions in many ways, including through the annually given Marian Anderson Award, which celebrates critically acclaimed artists – individuals who have used their talents for personal artistic expression and whose body of work has contributed to our society in a singular manner.
We can also honor Anderson by recognizing that segregation still exists within our society, though the United States has been legally desegregated. By doing so, we can work to make our nation a true "sweet land of liberty."
Learn more about Marian Anderson through the Marian Anderson Historical Society's website, located in the Marian Anderson Heritage Village, Philadelphia, PA.