"It is harder to innovate as a choreographer these days," Alejandro Cerrudo confessed between rehearsals for his new work Still in Motion, which receives its world premiere with Hubbard Street Dance Chicago this Thursday, June 11, 2015.
"You have classical ballet choreographers who do fantastic work and who use a very heavily classical vocabulary," Cerrudo said. "Contemporary choreographers? We're not allowed to look by any means like anyone else in the field."
Cerrudo joined Hubbard Street as a dancer in 2005, was named Choreographic Fellow in 2008, and was appointed the company's first Resident Choreographer just a year later.
Still in Motion is Cerrudo's 14th premiere for Hubbard Street and will be a part of an all-Cerrudo evening that marks the opening of the Summer Series. The program is the second in the company's history to feature the work of a single choreographer.
"This is a dream for any choreographer to have a full evening. And with Hubbard Street? This is an amazing company and it's performing just my work in an evening. That's a huge honor."
But, along with honor comes great responsibility. Cerrudo wants to ensure that Still in Motion complements his two other works on the program, Extremely Close and Little mortal jump, while also being original.
"You cannot do a step that someone has done before, because then you're copying," Cerrudo lamented. "I'm not even talking about borrowing. Even if you're just influenced by someone else, or someone sees somebody else in your work, they're going to criticize it right away. It almost feels like it's a sport."
"When choreographers have a vocabulary that is heavily based on ballet, no one says, 'Why are you using steps that have already been invented?'" He continued, "We're all influenced not just by other people's work, but by conversations that we have, things that we are in touch with, things we see from movies to things on the street. Sometimes we're influenced by things and we don't even know it. You cannot create from zero, no one does that."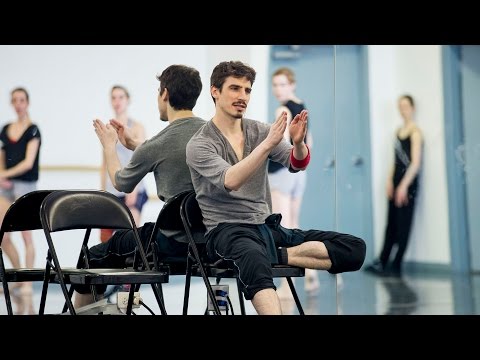 Since his initial rehearsals for this world premiere, Hubbard Street has gone on a world tour with stops in Switzerland, Italy, and the United States. In addition, Cerrudo was in New York in late May to perform in Wendy Whelan's Restless Creature at the Joyce Theater.
Developing Still in Motion in several stages over several months, Cerrudo said, "I don't know if it has grown, but it has morphed. It's a more cohesive piece after a lot of trial and error."
Since the choreographer has such an intimate relationship with the company, he has also been able to make changes even up through the last week of rehearsals. "I am changing choreography and music," he said. But, he's not changing one without changing the other. "I am taking out whole sections," he explained, so as not to try fitting square pegs in round holes.
Because Extremely Close and Little mortal jump are more theatrical in their use of set pieces and other production elements, Still in Motion places the emphasis on the dancers themselves.
One element that binds all three works is the similarity in their musical accompaniment. "I listen to a lot of music, and people send music to me often. When I hear the right thing, it gives me something: a picture or an image, or an idea for how to put the dance together onstage," he said.
While all of his works contain a diverse range of repertoire, Cerrudo has a particular affinity for the works of Philip Glass and Max Richter. "I know that some people might think that choreographers use music by Philip Glass or Max Richter too often, but I think they're geniuses of our time, and so why not?"
"It's true that we can't always know what will inspire us, and you cannot wish for something else to inspire you than what does, and have it be that way," he continued. "I only try to listen close to the things I hear and if it shows me a dance, or an image, then I can get started. It's that simple."
Though Still in Motion is very much still in motion, even in the days before its world premiere, Cerrudo promises that it will be "nothing like anyone has seen before."
For more information about Still in Motion and the All-Cerrudo evening, visit Hubbard Street's website.