World-renowned pianist Lang Lang spoke with WFMT about his only Chicago appearance this season – a one-night-only concert at Lyric Opera of Chicago on Saturday, May 9, 2015.
Read more about his program, which includes Tchaikovsky's Seasons, Bach's Italian Concerto, and Chopin's Scherzi, in the interview below.
And, tune in to 98.7 WFMT or stream online every day this week for chances to win pairs of tickets to hear Lang Lang  live this Saturday.
---
Tchaikovsky's Seasons, twelve pieces that characterize the twelve months, have been arranged for orchestra several times. Has hearing the arrangements affected the way you play them at the piano?
Yes. Even when you play solo, you need to imagine the sound of [the] orchestra to make your piano sound more colorful and expressive.
How have the poetic epigraphs associated with each of the 12 pieces in Tchaikovsky's Seasons influenced (or not influenced) the way you explore these works?
Music itself always should be poetic. I was influenced by the poetic "Russian Soul" in Tchaikovsky very much. It makes you think big and view far.
You've known The Seasons for a long time. How has your relationship with these works deepened over time?
I have played this work for a long time, and it grows with me over time. I would love to continue exploring this work, and often find harmonic details that are very beautiful.
What is your approach to playing works on the piano that were composed for other keyboard instruments, as with Bach's Italian Concerto?
Bach's works are [some of the] most mysterious among all of the classical music works. I need a life[time] to work on it. [The] Italian Concerto, as well as other works of his, has multiple colors [that can] be brought out in different voices; there are many subtle harmonic relationships in this work.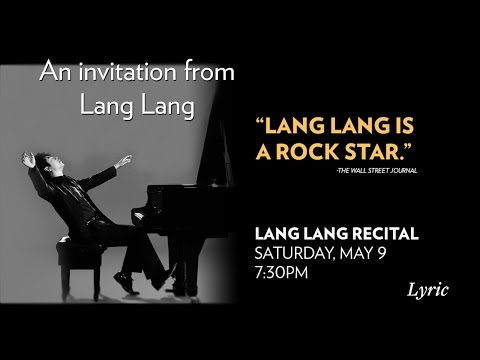 Though the Italian Concerto is written for keyboard, we can easily hear how Bach may have orchestrated this piece for chamber ensemble. How do you achieve an ensemble sound when playing this solo work? 
I think [of] each voice as an instrument, and make those "instruments" change. For instance, sometimes I think [of] the high voice as [a] violin; sometimes I imagine it as [a] clarinet.
"Scherzo" means joke, though Chopin's Scherzo No. 1 was composed amidst Poland's November Uprising against the Russian Empire. Has the juxtaposition between the title and the mood of the piece affected your interpretation?
There are "Scherzo characteristics" in this piece, in terms of rhythm [and phrasing]. Though there is [a] solemn approach and [a] certain mentality of revolution. You need to bring out the rhythmic characteristics and keep the intensity of harmony, structure, etc.
Chopin's Scherzi were composed over the course of an entire decade and issued separately. Do you think there is any continuity between the four works?
There is certain continuity in terms of structure. I basically see them as different characterized pieces. Each piece has special feature[s] and expression.
Playing two substantial sets – The Seasons and the Scherzi – is ambitious for a single program. Why did you decide to pair these two sets together for this recital program?
Both works are among my favorites. I enjoy the comparison and similarity of the two works. One is from Poland and another is from Russia. They have very distinguished colors. Yet, both work[s] have some approach of "nationalistic tone," that appeared special. They are both greatly interesting and explore-able to me.