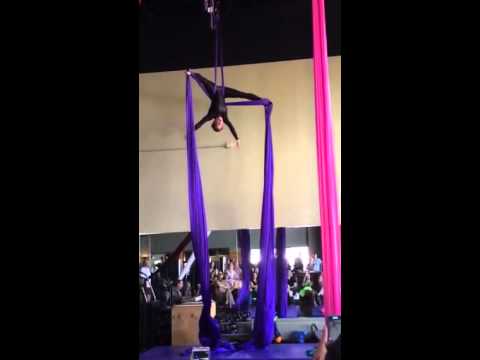 The Queen of the Night's famous aria "Der Hölle Rache" ("The wrath of hell") is not just one of the most popular pieces in Mozart's The Magic Flute, it's one of the most well-known works in all of classical music because it requires such impressive vocal acrobatics.
Soprano Rainelle Krause has introduced another kind of acrobatics to her performance of this beloved aria – she performs it while suspended from aerial silks.
Performing aerial silk has become more popular in part due to Cirque du Soleil, the internationally renowned circus company that features this style of acrobatics frequently in its performances.
Though opera was once seen as an art form where sopranos come on stage merely to "park and bark," today's opera artists embrace a variety of theatrical styles and are more willing than ever to take risks.
While some performers might not be willing to suspend themselves from the ceiling without the use of safety lines, imagine what kinds of productions directors could dream up if more sopranos were equipped with Krause's skills!