El Pasado Nunca Se Termina (The Past Is Never Finished), the new mariachi opera commissioned by Lyric Unlimited, was recently unveiled in preview performances in Pilsen's Benito Juaréz Academy March 13-15, 2015. WFMT attended the first preview performance and went backstage with mariachi singer Vanessa Alonzo during her rehearsals to tell you more about this fresh, new work.
With ticket prices at an affordable $10 each, the diverse audience at the first preview performance of El Pasado at Benito Juaréz Academy included a number of local families. One Pilsen resident, who attended with his wife and three year-old son, said after the performance that, "We usually wouldn't go see something like this, but we came last year and saw [Cruzar la Cara de la Luna] so we thought we would come and see this one too."
Cruzar received its Chicago premiere as part of Lyric Unlimited in 2013, and was commissioned by Anthony Freud for Houston Grand Opera during his tenure there as general director. El Pasado is a co-creation of Houston Grand Opera and the Lyric Opera of Chicago, where Freud has been general director since 2011. Both Cruzar and El Pasado share the same creative team of composer José "Pepe" Martínez and librettist Leonard Foglia.
Lyric Unlimited Director Cayenne Harris explained, "By presenting Cruzar, we made friends and found advocates within the Mexican and Latino communities here who have been instrumental in helping us to draw the audiences that we are hoping to attract to El Pasado."
El Pasado speaks to broad audiences, in part, because of its accessible score, a multicultural blend of opera and mariachi music. Singer Vanessa Alonzo, who performs in El Pasado and who also stared in Cruzar, spoke to WFMT about her passion for mariachi music and how creating the character of Juana for the current production helped her explore her own identity.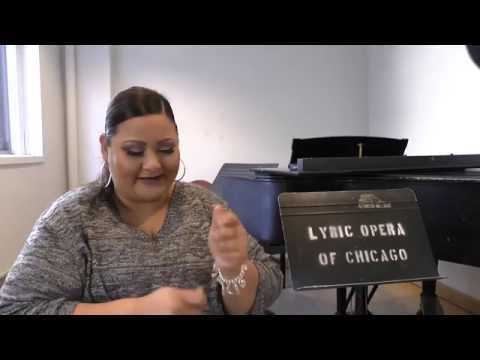 The cast also includes mezzo-soprano Cassandra Zoé Velasco, who appeared earlier this season as Laura in the Metropolitan Opera premiere of Tchaikovsky's Iolanta alongside Anna Netrebko, and Lyric's own Ryan Opera Center alumnus Paul La Rosa.
Preview performances of El Pasado featured Mariachi Aztlán as the on-stage mariachi ensemble, which includes violins, trumpets, harps, vihuela, guitarrón, and guitar. The world premiere performances at the Civic Opera House retain the same cast, though featuring the acclaimed Mariachi Vargas de Tecalitlán.
Following the opening night preview in Pilsen, audiences were serenaded by the young performers of the Mariachi Academy ensembles of the Chicago Mariachi Project, a non-profit whose mission is to elevate the art of mariachi and promote excellence in musicianship through education, coordination and support. The audience could not help but sing along to mariachi classics like "Cielito lindo," in this charming opera postlude.
After a weekend of previews at Benito Juaréz Academy, El Pasado travels to the Genesee Theatre in Waukegan for a final preview on Sunday, March 22, 2015 before its world premiere. Harris explained that while presenting the opera in Pilsen "was an obvious choice," that Lyric Ulimited "considered several possibilities before deciding on Waukegan."
"It's a city that has seen rapid growth in its Latino population," she continued. "And the Genesee Theatre, once a movie palace, has been restored beautifully and is truly a gem. I also found that the city of Waukegan was really hungry for partnership and collaboration with a cultural institution like Lyric Opera. The community has been working on a revitalization plan that puts the arts at the forefront of their efforts, so it was really a great fit."
Harris explained, "One of the great challenges of presenting a brand new work is that it is very difficult to know how the audience will respond before you perform it for a live audience." She continued, "we are really fortunate to have the opportunity to preview El Pasado in Pilsen and Waukegan and to give the cast several opportunities to perform it before the official world premiere performances. It's been incredible to see the audiences respond to the work at the previews."
Though Lyric has presented two mariachi operas recently, Harris said, "We don't have any immediate plans for new commissions in Spanish, but it's certainly something that is possible. Through Lyric Unlimited we plan to explore an array of different collaborative projects including new commissions that will resonate with many different communities in Chicago."
If you are unable to catch a sneak peek of El Pasado during its preview performances, tune into Chicago Tonight next week to see a feature that includes Mariachi Aztlán and two soloists from the show.
The world premiere performances of El Pasado take place at the Civic Opera House March 28 – 29, 2015. For more information about El Pasado or to order tickets, visit: www.lyricopera.org/pasado